---
Extrasolar Planets Lab
---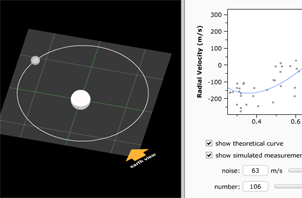 The NAAP Extrasolar Planets Lab introduces the search for planets outside of our solar system using the Doppler and transit methods. It includes simulations of the observed radial velocities of singular planetary systems and introduces the concept of noise and detection.
First time users of NAAP materials should read the NAAP Labs – General Overview page.
Details and resources for this lab – including demonstration guides, in-class worksheets, and technical documents – can be found on the instructor's page. Some resources are not available for all modules.
Extrasolar Planets (pdf)