---
Motions of the Sun Lab
---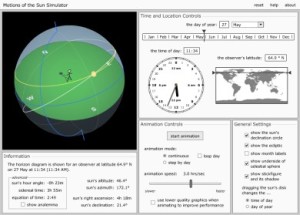 The NAAP Motions of the Sun Lab reviews some of the material from the Basic Coordinates and Seasons Lab and The Rotating Sky Lab and adds information to put all the pieces together for a more complete description of the motions of the sun. Computation of meridional altitude and stellar visibility are also introduced.
First time users of NAAP materials should read the NAAP Labs – General Overview page.
Details and resources for this lab – including demonstration guides, in-class worksheets, and technical documents – can be found on the instructor's page. Some resources are not available for all modules.
Paths of the Sun (pdf)
Seasonal Motion
Daily Motion with Seasonal Effects
---