---
Hydrogen Energy Levels Lab
---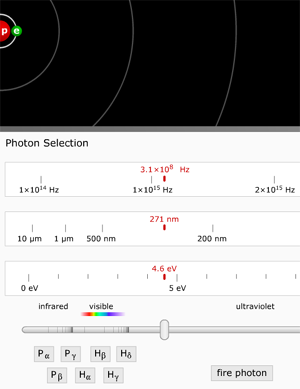 The NAAP Hydrogen Energy Levels Lab introduces the concept of how quantum mechanics and light relate with respect to the Hydrogen atom. The Energy Levels simulator allows dynamic interaction with a Bohr model version of a single Hydrogen atom. The Thermal Distribution histogram gives a temperature dependent plot of occupied states for many, many atoms.
First time users of NAAP materials should read the NAAP Labs – General Overview page.
Details and resources for this lab – including demonstration guides, in-class worksheets, and technical documents – can be found on the instructor's page. Some resources are not available for all modules.
Hydrogen Energy Levels (pdf)
---