Home
› Posts from February 2013
---
Upcoming Astronomy Presentations
Astronomy visitors to UNL and the dates of their anticipated presentations are provided below. Please check back for more information as the dates approach.
Susan Benecchi – Carnegie Institution of Washington

April 18 4:00 pm Physics Department Colloquium
April 19 Evening Public Talk

Beth Willman – Haverford College

October 25 Evening Ruckman Public Talk
October 26 Keynote Address, 2013 Astronomy Education Workshop/N-AAPT Fall Meeting
Friday, February 22, 2013 — Kevin
Astronomy Students Participate in Women in Science
Every February around 100 juniors from high schools around Nebraska visit UNL to be exposed to potential careers in science. The Friday/Saturday event consists of a science fair of demonstration booths followed by a dinner and speaker Friday evening. The astronomy booth presented demoes centered on our infrared camera, the physics of music (singing aluminum rods and boomwhackers), and laptops with astronomy simulations. From right to left, Astronomy Major Samantha Cajka, Astronomy Major Marina Bradaric, and (most of) Education Major and Astronomy TA Sasha Shomshor are visible in the picture below from the dinner.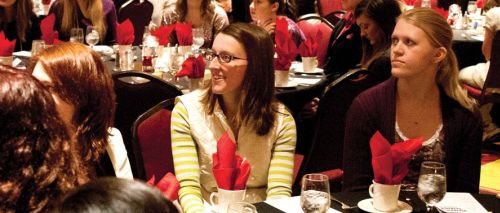 Astronomy Education group participation in the event also included a planned student observatory open house Friday evening (it was quite cloudy) and a Saturday morning presentation on http://astro.unl.edu project pedagogy to teachers and parents accompanying the students.
Friday, February 22, 2013 — Kevin
Blog Up and Running
The blog has been down for a while. This has happened on a couple of past occasions due to problems with updates to python — the underlying scripting language. (It appears that problems this time were due to "user error" ;-)
Thursday, February 21, 2013 — Kevin
Astronomy Majors lead Workshop for Middle School Teachers
Making science exciting and important to middle school students can be an endeavor but Lincoln educators are aiming for the stars. On October 5th, a group of 8th grade science teachers from five local middle schools participated in a curriculum enhancement workshop.
Dr. Kevin Lee presented with the help of five undergraduate students -- Marina Bradaric, Samantha Cajka, Lauren Wolterman, Ethan Van Winkle, and Tina Riley. Jeff Wilkerson, Professor of Physics at Luther College, also presented.
The students showed the teachers where to find free sky maps, virtual planetarium software, calculators that note things like the best time to see Jupiter's famous red spot, and places where science is crowd sourced like the Galaxy Zoo on Zooniverse. The group also made altitude markers, tested a simple, homemade spectrometer, and learned that even paper towel tubes can give kids a better focus on astronomy.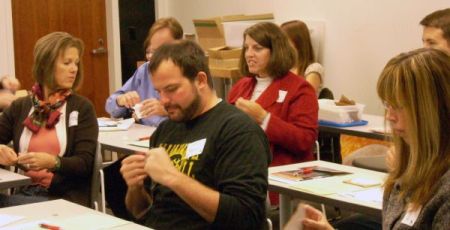 Dr. Lee demonstrated several online resources to benefit both students and teachers seeking to grasp a better understanding of physics and astronomy, including UNL's Daylight Hours Explorer, which has received over a million hits in the past two years.
One participant noted that, "[the workshop] sparked my sense of wonder -- I want to learn more!" Another appreciated having their questions about astronomy answered and nearly everyone found a resource they were looking forward to using.
This workshop is the second of its kind, coming on the heels of a successful 15-year-long program for high school science educators. Two of last year's participants returned this year and several of the teachers said they expect the workshop will help them bring astronomy to their students on a level they can understand and get excited about.
Friday, February 15, 2013 — Kevin
Curriculum Projects
Resources
Local Projects
Information
Recent Posts
Archives