---
Eclipse-Explorer (beta version)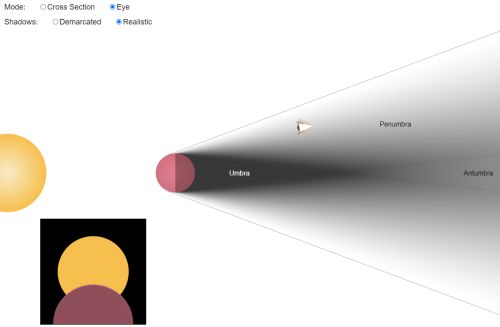 This is a multi-faceted collection of simulations allowing students to explore eclipses from a number of perspectives. Launch Eclipse Explorer! There are 5 simulation components:
Labeled Shadow Diagram — Regions of shadow around an object can be viewed on an adjustable screen or by a movable eye.
Freestyle Shadow Diagram* — Regions of shadow around two adjustable objects are shown.
Earth-Moon Top View — Allows the range of distances and angular diameters to be explored for both solar and lunar eclipses.
Earth-Moon Side View* — Allows a viewer from the sun's persective to observe the Earth-Moon system and explore eclipse seasons on a timeline.
Eclipse Table* — Illustrates the frequency of lunar and solar eclipses from 2000 to 2100 with links to NASA Goddard resources.
Components that build upon a simulation that is present in the ClassAction project are marked with an asterisk. Questions to encourage exploration are attached to each simulation.
Note that although the Eclipse Explorer should work on all devices, it is targeted at smartphones. We would welcome feedback on this beta version, especially feedback focused upon its appropriateness for usage with students in the college introductory astronomy classroom.
Lunar Phases HTML5 Simulations
The simulations below were developed in collaboration with WGBH Boston for their Bringing the Universe to America's Classrooms collection with funding from NASA.
Simulation #1: Moon Phases Viewed from Earth

A simulation illustrating the motion of the sun and the moon in the southern sky for a mid-latitude in the northern hemisphere. Launch Simulation! It is useful for teaching that the sun can be seen only during the day and the moon can be seen either during the day or at night. It also shows the varying illumination on the lunar surface and the names of the phases.

It is targeted at grades K-2 students.

Links to this simulation and related materials on the PBS Learning Media web site:

Lesson Plan (coming soon)

Simulation #2: Moon Phases Viewed from Earth and Space

A simulation simultaneously illustrating the sky view (the sun and moon in the sky as seen from Earth) as well as the space view (the sun, Earth, and the orbiting moon in space). Launch Simulation! It illustrates how the geometry of the sun, the moon, and Earth gives rise to lunar phases.

It is targeted at grades 3-5 students.

Links to this simulation and related materials on the PBS Learning Media web site:

Simulation #3: Exploring the Rising and Setting Times of Moon Phases

A third simulation illustrating the space view of the sun-Earth-moon sytem and the appearance of the moon from Earth. Launch Simulation! It allows one to estimate the rising and setting times of a lunar phase as well as discuss the synchronous rotation of the moon.

This third simulation is targeted at grades 6-8 students.

Links to this simulation and related materials on the PBS Learning Media web site:

Lesson Plan (coming soon)