---
The Rotating Sky Lab
---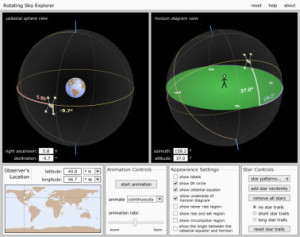 The NAAP Rotating Sky Lab introduces the horizon coordinate system and the "apparent" rotation of the sky. The relationship between the horizon and celestial equatorial coordinate systems is explicitly explored.
First time users of NAAP materials should read the NAAP Labs – General Overview page.
Details and resources for this lab – including demonstration guides, in-class worksheets, and technical documents – can be found on the instructor's page. Some resources are not available for all modules.
The Rotating Sky (pdf)
Horizon Coordinate System
Rotating Sky
---