---
Blackbody Curves & UBV Filters Lab
---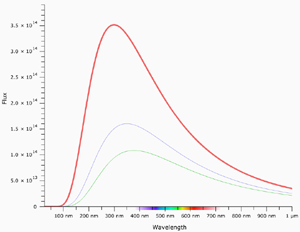 The NAAP Blackbody Curves & UBV Filters Lab demonstrates the basic properties of the blackbody curve and how temperature relates to blackbody curves. The temperature-color correlation of blackbody curves is explored through the concept of filters, which are also introduced in this module.
First time users of NAAP materials should read the NAAP Labs – General Overview page.
Details and resources for this lab – including demonstration guides, in-class worksheets, and technical documents – can be found on the instructor's page. Some resources are not available for all modules.
Blackbody Curves & UBV Filters Student Guide (pdf)
Background Material
Simulators
---